How to choose the color of the cabinet quartz stone countertop? How to maintain the cabinet quartz stone countertop? 90% will choose artificial white quartz stone!
Artificial quartz slab is a new type of stone artificially synthesized by more than 80% quartz crystal plus resin and other trace elements. Quartz stone has no radiation and high hardness, which makes the quartz stone countertop scratch-resistant (Mohs hardness 7), pollution-free (vacuum-made, dense and non-porous), and hot-proof (quartz material, temperature-resistant 300°C).
People will be more concerned with how to choose the color of quartz stone countertops for cabinets when they are buying them so that they can select a stylish and long-lasting color quartz stone countertops for cabinets based on their knowledge. After acquiring the quartz stone countertops for the cabinets, people will become more concerned with how to maintain them so that maintenance knowledge can make the artificial quartz stone countertops for the cabinets endure as long as new. Everyone, in my opinion, must be curious about the specifics of the quartz stone countertop for the cabinet and how to select a piece of quartz stone that complements their personal style. Then let's enter to comprehend it collectively. Let me explain how to choose the color of the quartz stone countertop for the cabinet and how to select the quartz stone countertop. maintenance.
Cabinet Quartz Stone Countertop Color:
1. White: The color of the white quartz countertop of the cabinet is actually not as much as the color of the door panel, of course, there are many. Now we see more white countertops, not only because white countertops are good-looking and versatile, but also because they are easier to take care of and look tidier. Gives a pure and spotless color. The countertop with white as the main tone also presents a simple, elegant, and clean feeling, which is a good choice for those who like cleanliness and quietness. The matching of contrasting colors of white and black will also create a pure and calm effect, and there is nothing to disturb the mind. White and any color collocation will produce an unexpected feeling.
2. Pale yellow: Classic yellow solid color artificial quartz slab Considered a prestige symbol in China from ancient times, yellow is revered today. Light yellow may be paired with a number of hues to get pleasing effects, including the blue, green, red, and others already mentioned. The vivid apricot yellow will produce an impression of freshness and artistic freedom.
3. The natural color of wood: Wood's natural hue, evokes a pastoral setting and a return to nature. It gives the family room a rustic feel by being surrounded by the simplicity of solid wood, sprinkled with pastoral flowers, and other plants. This is a good option for the cabinet color for elderly couples and persons with steady personalities. Light blue and dark green goes well with the simplicity of wood, bringing out the cozy mood.
4. Green: A tranquil, revitalizing, and attractive color. Because every variation of the color green reflects the image that nature offers to humans, it is a topic that people can never get tired of and never get bored with. Therefore, green is appropriate for those who enjoy it. The transition from outside to indoors is finished with shades of pale green, gray-green, and dark purple, which matches how humans naturally perceive space. Green quartz countertops forIt is precise because green is an eternal color that is hard to put down. I often see it in star-rated hotels and high-end resorts. Beautiful as always.
How to maintain the artificial quartz slab countertop of the cabinet:
1. Avoid leaving hot or high-temperature pots on the countertop for an extended period of time. The countertops will be harmed if hot pots, hot pots, or other overheated utensils are taken straight out of the stove, oven, or microwave.
2. When operating, try to keep sharp items away from the countertop. You should use the chopping board to cook food and cut vegetables regardless of the type of countertop you select. It may also maintain more cleanliness while avoiding leaving knife marks and harming the blade.
3. To keep the countertop clean, try to avoid soaking it for an extended period of time or letting water collect on it. Also, keep the countertop dry and free of debris.
4. Strictly forbid corrosive substances from coming into contact with the countertop. When using corrosive substances on the countertop, try to avoid doing so. If you do unintentionally touch it, wash the area thoroughly with soapy water right once or get advice from experts in the field.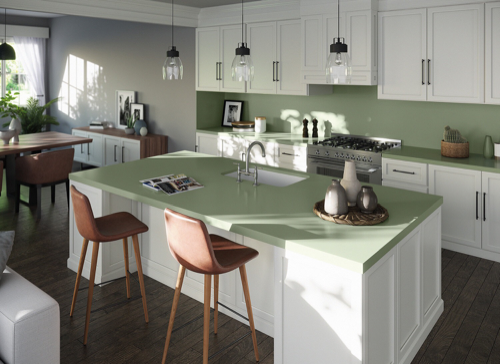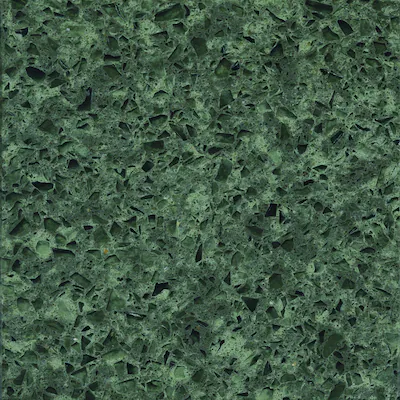 Visit for artificial quartz slab Countertop Colors for Your Upcoming Kitchen Remodel
1. Robust and reliable
Quartz is a mineral that resists corrosion and does not readily react with other substances chemically. Diamond is the hardest rock substance known to man, followed by quartz, making it harder than blades, scratch-resistant, and more resilient. Its surface is polished and polished, as previously mentioned, and it has a very long service life without yellowing or greasy smoke penetration.
2. Outstanding flame retardant efficiency
Since the natural quartz crystal has a melting point of 1300 degrees and gas and gas cannot ignite at this temperature, even when exposed to high temperatures for an extended period of time, it will not burn.
3. Healthier and more environmentally friendly
Nanotechnology is used to remove radioactive elements from natural quartz without causing radiation harm. It is safe enough and its substance is thick enough to prevent bacterial growth. Oil drops on it and is easier to clean by gently wiping it with a towel.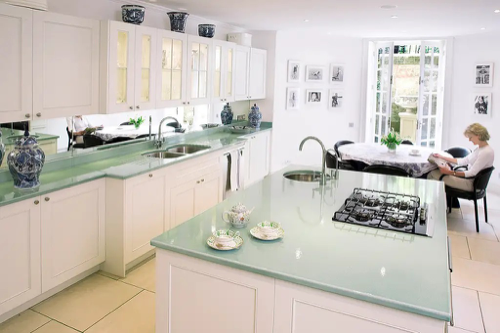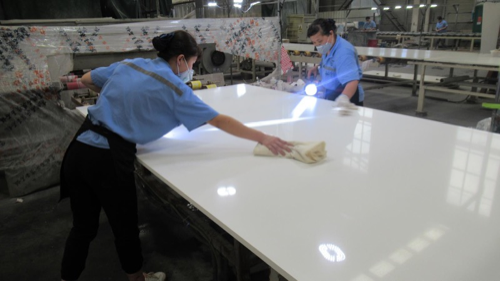 There are so many advantages of artificial quartz stone, are you tempted?
Related Products