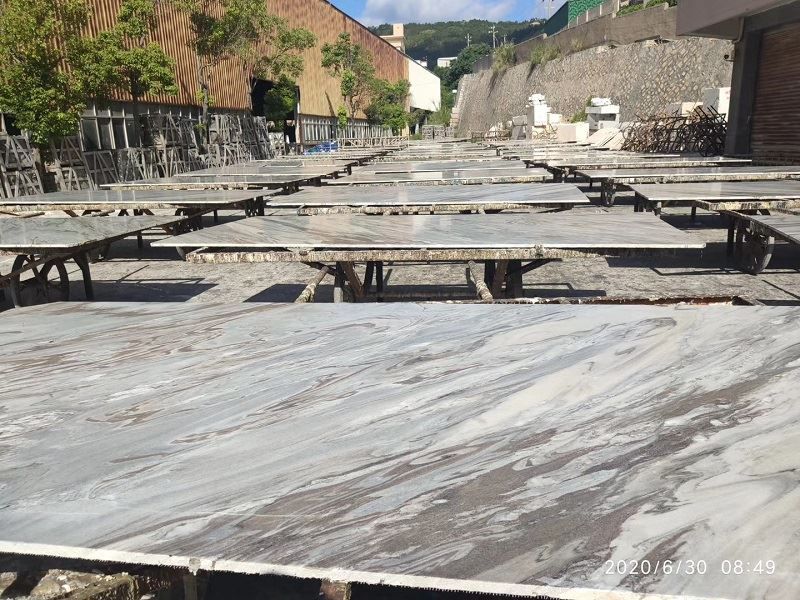 Chinese Marble materials get a bigger market now. As there with more and more peoples start to know the advantages of those materials. In the past many years, all peoples know that if we want to buy high-quality marble stone, that have to import from Italy, Turkey, and Greece, etc. In those marble materials, the white, grey color is always the most popular type now. Today, we want to introduce a new blue marble, that with beautiful veins and very good physical performance.
In China, there with much new marble stone is popular now. As a professional marble exporter from China, Perfect Stone always supplies the best marble materials and products to customers. Such as this Blue Galaxy Marble Stone with light blue and grey color. In addition, the white veins on the surface too. That makes this material become special and very popular now. Sometimes, customers like to use it for rich projects. Like as own bathroom, kitchen and living room flooring tiles and wall tiles, etc.
What Is Blue Galaxy Marble Stone?
This Blue Galaxy Marble origin from Italy, that material can be cut in rich shapes. For example, the popular types have big full slabs, half slabs, and any cut to size tiles, etc. Of course, if you want to use it to produce prefab marble countertops, and marble tabletops, marble sinks, this material also with perfect performance too. The high degree of polish degree makes the surface looks mirror. At the same time, we also can cut it from various directions, like vein-cut and cross-cut, etc.
This marble stone with very good physical data. The marble density is 2.53g/cm3, and the water absorption ability is great too. In general, this marble stone with similar and stable color, if cut it from different quarry layers. That can make sure many big stone projects for use it. That also makes many peoples like to use it too.
How About Blue Galaxy Marble Price?
Every new marble stone with its own special feature. Whatever styles and textures, a good marble stone cost control always important for manufacturers and buyers both. For example, this Blue Galaxy Marble stone with a big quantity supply from the quarry. In addition, the products also with a very competitive price too. For example, the full slabs at 1.8cm price are about 18.5usd to 27usd, etc. If you want to use it for cut tiles, they should be plus material waste and depends on the detailed size, quantity. You can directly contact our sales peoples to confirming the bottom price.